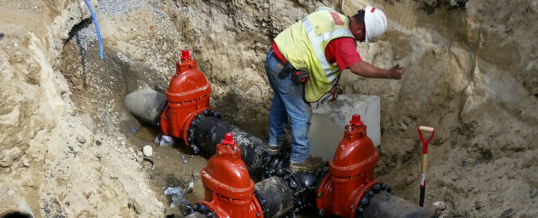 We have operated the water system for West Boylston since 1939.  Our underground infrastructure of the water system consists of over 56 miles of water mains throughout the town. The district provides, on average, over 1/2 million gallons of water per day to approximately 6,000 residences and businesses.
About 50 miles, or almost 90% of the our water mains are currently made of asbestos cement (AC).  Most water mains that are installed today are made of ductile iron (DI). The majority of these older AC mains were put into service prior to 1970 – over half of them before 1960!  What is the useful life of an AC main?  It depends on where and how the main was installed.  Most recent studies estimate the useful life of an AC main to be 50 to 70 years, depending on soil conditions and how it was installed.
Due to an increase in water main breaks on these AC mains, we have started a program to replace these aging pipes with newer – and stronger – DI water main.  The number and severity of main breaks and surrounding soil conditions of various mains will guide this program.
List of Water Mains replaced:
Crescent Street: 3700′ of 12″ PVC from Central Street to Lynwood Lane (2003)
Henry Street: 1000′ of 8″ DI from Franklin Street to Merrimount Road (2005)
Laurel Street: 5000′ of 8″ DI from #80 Laurel Street to the end of Laurel Street at the Town of Holden line (2006)
Valley Forge Circle: 1500′ of 8″ DI from Maple Street to Pierce Street (2013)
Worcester Street (Routes 12/140 Causeway) from Goodale Street to Beaman Street: 2700′ of 12″ DI (2016)
Beaman Street (Route 140) from N. Main Street to South DCR driveway: 3200′ of 12″DI (2017)