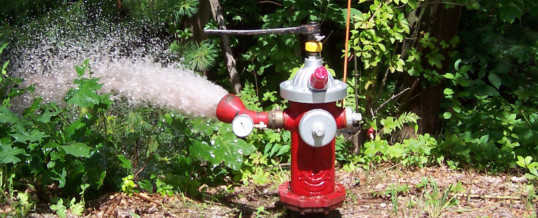 The Water District has instituted a water main and hydrant flushing program for the fall of each year. The flushing hours will be from 8:00 am to 4:00 pm. Please watch for the Yellow Signs we will post in your neighborhood to inform your when flushing will take place. We will also update flushing areas on the District Facebook Page. In addition, a message will be sent out via the CodeRED system to those residents who have elected to receive them. This program helps to maintain water clarity and quality in the distribution pipes.
Flushing involves the use of high velocity water to scour the inside surfaces of the water mains. Your water may be discolored during the flushing and for several hours afterwards. Please avoid washing laundry during flushing until the water becomes clear.
If the water remains discolored for several hours after flushing, or if a change in pressure or volume is noted, please call the Water District. Thank you for your patience and cooperation during this program.
2022 FLUSHING SCHEDULE*
ALL SCHEDULED AREAS FOR 2022 HAVE BEEN COMPLETED. WE THANK OUR RESIDENTS FOR THEIR PATIENCE AND COOPERATION.
*ALL DATES WEATHER DEPENDENT AND SUBJECT TO CHANGE WITHOUT NOTICE.